Never has the mask of the Phantom Of The Opera looked more deadly than on Charles Dance.
With a floor-length black cloak swirling around his tall frame, there is menace in every step he takes down the sweeping staircase of the - Paris Opera House.
He is the star of a lavish, four-hour mini-series being made by an American TV network.
The race is on between film and TV companies to cash in on the resurgence of interest in the story of the Phantom.
Robert Englund, of Nightmare On Elm Street fame, has already completed a slasher version, and Andrew Lloyd Webber is working on a plan to bring his musical to the screen.
Since Webber's stage hit is still running hot in Los Angeles, we may see his film version before we see the live production.
The television mini-series sticks strictly to the original Gaston Leroux story of a disfigured creature who lurks in the caves and underground lakes of the opera house and falls in love with the voice of a singer. It is a story that has fired the public imagination since the first silent film version in 1925.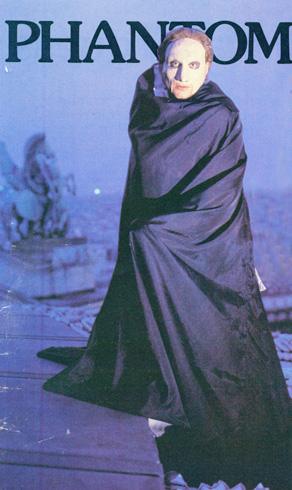 Still regarded by some as the best, that celluloid version starred Lon 'Man of a Thousand Faces' Chaney.
Remakes followed in 1943, with Claude Rains, and in 1962, with Herbert Lorn.
A classic theme, the Phantom has given Hollywood a new, money-spinning bandwagon and movie moguls are scrambling aboard from every direction.
Characteristically first up was horror flicks producer Menahem Golan with a version that has a supernatural Phantom haunting the London Opera House. Perhaps Paris accents weren't a la mode for his Phantom, the nightmare-faced Freddie Krueger.
Then producer Bernie Brillstein went into conference with Dangerous Liaisons' John Malkovich to put forward a proposal for his own screen update, and even before the Andrew Lloyd Webber blockbuster exploded on to the stage, a comedy spoof of the story was being produced for Los Angeles theatregoers.
The mini-series starring Charles Dance -- and it will be some time before it is screened in Australia -- features the Paris Opera House instead of a film set.
Filming even takes place on an underground lake, and Charles admits he was somewhat unnerved by the experience.
"The whole place has a definite feeling of loneliness and mystery," he says.
"From an actor's point of view, it is ideal. We are trying to create the very sort of suspense which seems set deep into the stonework here."
Screen heart-throb Charles, 43, agreed to abandon his smooth image to wear the infamous mask once he was told that Britain's Tony Richardson, who won an Oscar in 1963 for Tom Jones, was going to direct.
"I knew then that it would be done with a lot of style and atmosphere," Charles says.
"We see the human side of the Phantom, and his love for Christine is presented as pure and platonic. There are no gratuitous scenes and no horror makeup."
Charles' Christine is played by American unknown Teri Polo, 25, an ex-ballerina. "She has the right look of innocence and vulnerability," Charles says.
Music plays a leading role in the Andrew Lloyd Webber stage version, launched in 1986 with Michael Crawford as the Phantom, and still eagerly queued for by fans.
However, the TV version goes easy on the ear for the opera-shy and while short 'grabs' of singing are interspersed, the production could never be called a musical.
There are also other well-known actors in the cast, such as Burt Lancaster, who plays the Phantom's father Carriere, and Ian Richardson as the Opera's unscrupulous manager Cholet.
It's possible that a fairly hefty slice of the mini-series' budget -- said to be about $10 million -- went to the creation of the character of the Phantom's father, but while author Leroux didn't seem to think it essential to the plot, the new role of Carriere does provide an unrivalled opportunity for veteran Lancaster.
The transformation of the original Phantom, a pitiful cripple, into the world's new matinee idol is an achievement on the scale of making a sex symbol of the hunchback of Notre Dame or the Elephant Man.
Ironically, Dance is being paid about $1 million to hide the face which has become his fortune.
But why choose Charles for the leading role when all we see of him is that noble chin beneath the mask?
Producer Ross Milloy says: "Charles always brings something extra. He has a great screen presence -- that indefinable something that separates the accomplished actor from a star. And that is what I am hiring."
It is another bold step for Charles, who struggled for 15 years until the role of Guy Perron in the 1984 hit TV series The Jewel In The Crown brought him success.
Since then he has chosen parts carefully. He played opposite Meryl Streep in the film Plenty and Eddie Murphy in Golden Child.
There have also been leading roles in the British films White Mischief and Pascali's Island.
His most recent TV appearance was in Goldeneye as lan Fleming, the rakish creator of the suave James Bond.
And even as the Phantom mini-series spooled into post-production, he was planning to take up the robes of Coriolanus at the Royal Shakespeare Theatre, Stratford-upon-Avon.
In his spare time, he enjoys the fruits of his success on a farm estate in Somerset with his wife Joanna, 40 -- they have been married 19 years -- and their children, Oliver, 14, and Rebecca, 8.
There is a touch of arrogance about Charles' lean features.
It is as if, having taken great care to build a career out of nothing, he is determined not to have any of it taken away.
He takes a pragmatic view, though, of what acting in the big-time is all about: "It's getting people in that counts.
"When my presence in a play or film is seen to be selling tickets at the box office, then I know I'm on the right lines."
With or without the mask, it seems that he is.
---