Underneath Charles Dance's cool, calm exterior lurks a shy, retiring soul.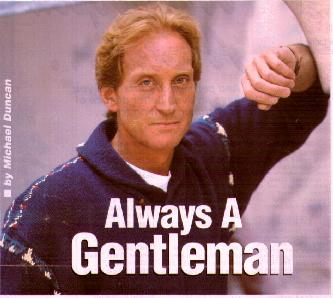 BRITISH actor Charles Dance has become known for playing smooth and sophisticated characters like Guy Perron in Jewel in the Crown and Maxim De Winter in Rebecca. He's won these roles for his ability to keep a stiff upper lip at all times.
However, the tall, slim 54-year-old with the charming smile claims he becomes a quivering wreck when under pressure.
"I guess it's the terrible fear that I will botch up, that I won't be any good," Charles explains. "But it's also a fear of what people might think."
Jitters at auditions haven't hindered Charles's successful career, though. In fact he soon grabbed roles that were to plunge him into the limelight, where he has stayed. His fear has meant he could have missed out on the biggest break of his life -Charles was asked to screen-test for the high profile role of James Bond in the early eighties. But he didn't turn up, much to his regret.
"I just couldn't handle the humiliation of rejection," explains Charles, who went on to portray Ian Fleming in Goldeneye and baddie, Klaus, in The Spy Who Loved Me.
Charles admits that his phobia still plays a part in his life and his nerves can still start jangling if he's about to go on stage or set.
"It only takes the slightest thing to push me out of kilter," Charles says. "The anxiety particularly affects me when I'm in the theatre where everything is geared towards that three-hour performance."
CHARLES has a past that is worlds apart from the characters he so often portrays.
"I've played a lot of these suave, debonair period people," Charles explains. "And you are what you seem to be. But I am by no means suave or debonair. I don't have an iota of class."
Charles was born in Redditch, Worcestershire in 1946. His mother was an ex-maid from the East End of London who brought him up in Devon with his step-father. His real dad left her for a French girl he had met during the First World War.
He attended grammar school in Plymouth, gaining qualifications in English and art. His original choice of career was graphic design and he attended Plymouth School of Art and Leicester College of Art and Design. But he soon decided to go into acting and took lessons from a retired RADA tutor.
"I changed my accent when I decided to be an actor," Charles explains. "The old one was an odd mixture of West Country and Birmingham."
His acting debut was in rep at Colwyn Bay, Wales and he struggled with small roles for many years. But after landing his plum part in Jewel In The Crown in 1984 he went on to star alongside Hollywood icon Meryl Streep in Plenty and Greta Scacchi in White Mischief. He has also appeared in blockbusters like Michael Collins and Alien 3.
Now he's able to enjoy the genteel lifestyle. Home is a sprawling country mansion in Somerset with his wife of 30 years, artist and sculptor Joanna. They have two children, Oliver, 26 and Rebecca, 20.
He met Joanna whilst working as a waiter at the Sombrero Cafe, near the Plymouth art school they both attended.
"She has always been extremely supportive," says Charles. "And has been particularly understanding about me being away for long periods of time."
Recently, we've seen Charles play yet another aristocratic chap in Gosford Park, now out on video.
"It's a cross between Upstairs Downstairs and The Shooting Party," Charles explains. "My character, Lord Raymond Stockbridge, is a very distinguished gentleman who did something heroic in the war.
"The interesting thing about the movie is that the action's seen from the point of view of the downstairs people. No-one upstairs is seen unless there's a downstairs person in the room."
A FASCINATION for the stage has never left Charles and he thoroughly enjoyed working in the West End with Jennifer Lange in Long Day's Journey Into Night.
"She was absolutely amazing," he explains animatedly. "She put her whole heart and soul into her performance, despite being away from her familiar surroundings."
Away from stage and screen, Charles enjoys working out in his gym at home or pottering around in his garden, but his most passionate pursuit is a leisure pastime that he can combine with work.
"I enjoy the process of film-making and would dearly love to make a movie of my own," says Charles. "I have spent so much time in front of the camera I think it would be brilliant to have the roles reversed.
"I'd like to put something about my own life on film too."
And we'll look forward to seeing it!